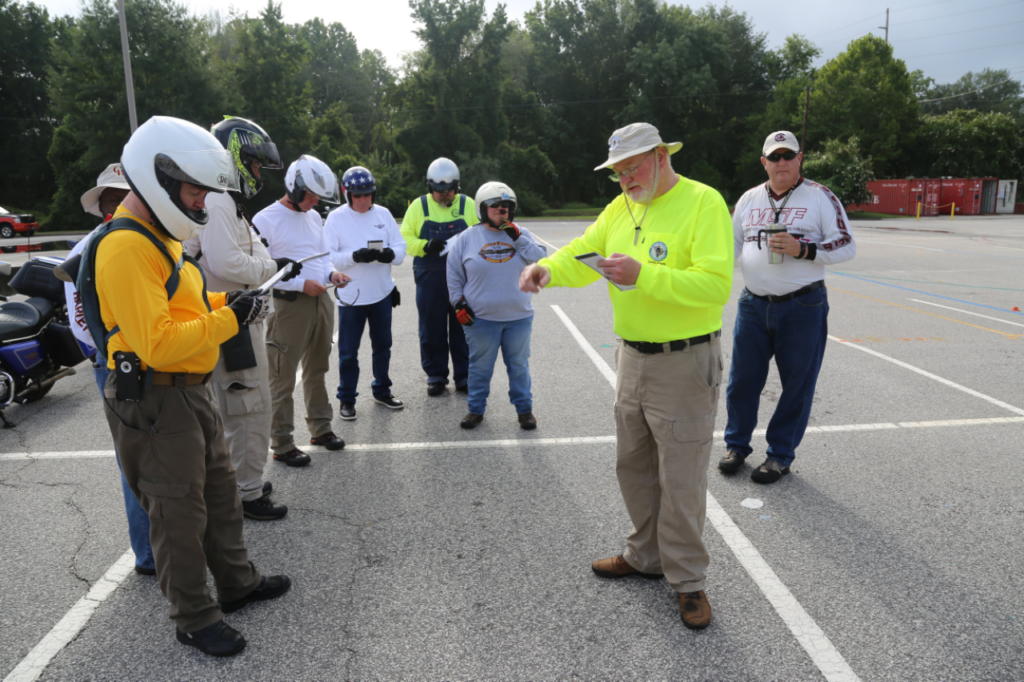 Have you ridden a motorcycle in the past and are now looking to get back in to riding? Do you have a working knowledge of clutch control and are able to balance and ride a motorcycle, but feel you need to "sharpen your skills" to be safer on the road?
This Returning Rider Course may be for you.
This is a 1-day course designed to reacquaint past riders with the controls and skills needed to ride safer on the road as well as complete the South Carolina Motorcycle riders test, (for Motorcycle endorsement waiver)
Riders must show proficiency with the motorcycle controls and clutch control to attend this class. If a student does not posess these skills during the evaluation excerises, they will be asked to attend a full 2-day Learn to Ride course, their registration fee will be applied to the new class, less a $50 service fee.
The Returning Rider Course is a research-based and action-oriented core curriculum designed to Refresh past motorcyclists of all ages the physical and mental skills necessary to ride safely on the street. The course includes basic motorcycle operation, maximum effective braking techniques, turning skills, obstacle avoidance maneuvers, classroom instruction and ten hours of "on cycle" training. Rider Coaches for the program are all experienced motorcycle operators who are nationally certified by the Motorcycle Safety Foundation (MSF).
Successful completion of this one-day course and its knowledge test, which consists of approximately two hours of classroom and 6 hours of on-cycle instruction, allows a rider to refresh skills as well as learn to be a safer and more aware rider.
Motorcycles are provided for your use during the course. A course completion card is provided to each student that could provide a discount on motorcycle insurance with many providers & many retailers and online sites will offer you discounts or free shipping just of mentioned you are an MSF graduate. Lastly, we conduct the SC motorcycle rider's skill test at the end of class. Successful riders earn their SC motorcycle license endorsement. Also, the SC DMV accepts this course as a "points reduction class" (Driver's safety class) and with course completion, so graduates could have up to 4 points removed from their SC driver's license.
Who should attend this course?
Anyone looking to get back to motorcycle riding after years of time off a bike.
Anyone with basic motorcycling experience who wants the best way to improve skills on a motorcycle.
Anyone who hasn't ridden in a while but is ready to get back on the road.
Motorcyclists who already ride but need a refresher course and/or a motorcycle license.
What is required to attend this course?
We supply the Motorcycle for our students! 300c or less.
Riders must come to class with a current SC Riders permit to qualify to test for the SC motorcycle endorsement.
Your commitment to learn and passion for motorcycling
Your own DOT helmet, (must cover ears) with either a shield or glasses.

Due to COVID we cannot provide one at this time.

A long sleeve shirt or jacket (dress according to the weather)
Long pants
Sturdy over the ankle shoes/boots (not canvas)
Full fingered gloves
Eye protection if your helmet doesn't have a shield
Ability to balance and ride on a bicycle
Rain suit if rain is in forecast
The RULE on the range is "no skin visible" while on the bike. We take rider safety very seriously, if you arrive without the necessary gear, you will not ride. ATGATT (All the Gear, All the Time!)
Are your ready to RIDE? – The Last Step is to pick a class date!