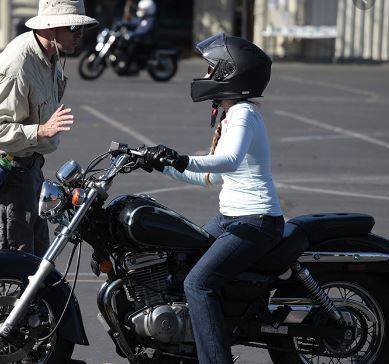 The curriculum for all individual courses is developed just for you that will build your confidence on a motorcycle. You will get to work on what you want to work on for the entire session. Individual training is available on weekdays and weekends all year long. We will find a date and time that will fit your schedule.
Prior to the scheduled class you will be interviewed by one of our professional instructors to determine your needs and desires. Novice classes may be conducted on one of our smaller training motorcycles (250cc). Intermediate classes can be conducted on one of training motorcycles or on your motorcycle. Advanced classes can be conducted on one of our training motorcycles or your motorcycle or scooter.
Are your ready to RIDE? – The Last Step is to pick a class date!
Who should attend this course?
Anyone wondering if you would like to ride a motorcycle.
Anyone with little or no motorcycling experience who wants the best way to learn to ride a motorcycle.
Anyone who hasn't ridden in a while but is ready to get back on the road.
Motorcycle passengers who are ready to move to the front seat and grab the handlebars.
Motorcyclists who already ride but need a refresher course prior to attending a licensing course
What is required to attend this course?
Your commitment to learn and passion for motorcycling
Your own DOT helmet, (must cover ears) with either a shield or glasses.

Due to COVID we cannot provide one at this time.

A long sleeve shirt or jacket (dress according to the weather)
Long pants
Sturdy over the ankle shoes/boots (not canvas)
Full fingered gloves
Eye protection if your helmet doesn't have a shield
Ability to balance and ride on a bicycle
Rain suit if rain is in forecast