This course includes approximately six hours of self-paced online activities prior to class and eight hours of on-cycle riding exercises. The course concludes with a Skill Evaluation and a Knowledge on-cycle instruction (typically conducted over two sessions, Saturday and Sunday.)
CanAm trikes are provided for your use during the course. However you can ride your own if you already own one. Also, a course completion card is provided to each student, that is accepted by some insurance carriers for a motorcycle insurance discount.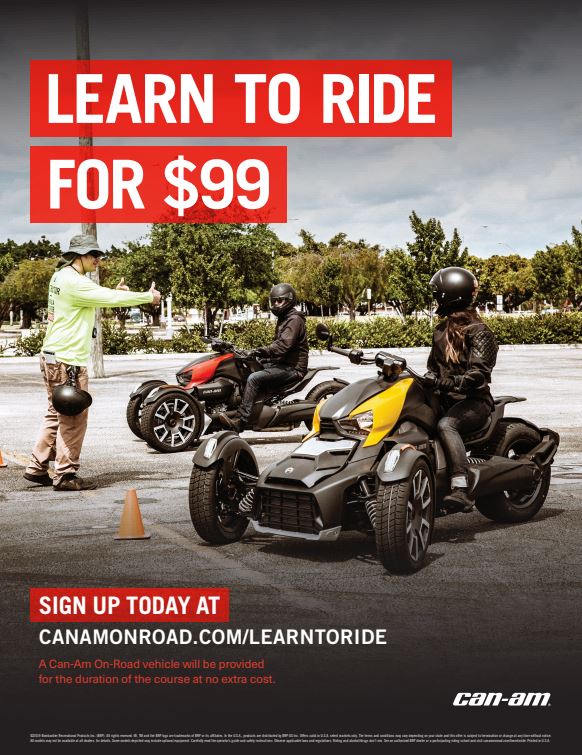 Who should attend this course?
Anyone who wants to learn how to operate a 3-wheeled vehicle
Anyone who already rides a 3-wheeled vehicle who are in need of their motorcycle license.
Motorcyclists who are entering the world of riding 3 wheeled vehicles for the first time.
What will you need to bring to class?
Your own DOT helmet, with either a shield or glasses.
A long sleeve shirt or jacket (dress according to the weather)
Long pants
Sturdy over the ankle shoes/boots (not canvas)
Full fingered gloves
Eye protection if your helmet doesn't have a shield
Rain suit if rain is in forecast
You can take the course on your own registered and insured 3 wheel motorcycle or we can provide a Can Am for you to take the course on. You must have proof of insurance and registration if using your own 3 wheeled Motorcycle.
Please download an electronic version of your handbook and highlight the answers and page numbers to the questions in the back of the book prior to attending class.
Learn to ride or improve your existing Trike, Spyder, or 3 Wheeled vehicle skills in this basic rider course class. This course curriculum comes from the Motorcycle Safety Foundation and is a great way to learn to ride and to handle your 3 wheeled vehicle.
Are your ready to RIDE? – The Last Step is to pick a class date!